Wesolych Swiat!
Merry Christmas!
Szczesliwego Nowego Roku!
Happy New Year!
Please join us to celebrate the Christmas season, share the Oplatek with your friends and family and enjoy the social gathering with Polish Christmas music, koledy i pastoralki, with the Pacanow children's performance, traditional Polish Wigilia meatless dishes and "Swiety Mikolaj" paying visit to the children.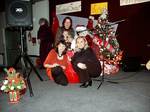 Everyone is asked to bring a meatless dish to share. We ask that you please bring generous portions and have all your guests know to bring a dish to share, as well, unless you want to bring one for them, too. It is an idea that will help us assure that everyone gets enough to eat. Alcohol will NOT be sold, but soft drinks and all tableware will be provided.
Save when you pre-register by December 7th!
As there is limited seating available, new this year is the request to preregister. Knowing approximately how many adults and children will be coming allows us the opportunity to do the best possible planning for this wonderful event.
Adults (members) who are preregistered are asked to donate $5 at the door, while those not on the list and non-members will be asked to donate $8.
Please register by contacting:
Marcin Swiderski (614) 805-8138 or
marcinfs@yahoo.com
or
Marek Choma (313) 574-7372 or
marekchoma@yahoo.com